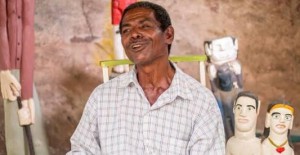 He passed away on Friday (16/06) the Alagoas Master Antonio de Dedé at the age of 63 leaving an enormous cultural legacy. His full name was Antonio Alves dos Santos, he was born in 1953 and he was registered as Living Heritage of Alagoas by the State Government, through the Secretary of State for Culture (Secult), since 2015.
He was born in Lagoa da Canoa and had the gift of carving beautiful wood works. In his workshop, he passed on his knowledge to his children, grandchildren and some young people from the community of Vila Santa Isabel, where he lived. He lived on his art and was recognized nationally for his work.
A sculptor on wood, his favorite themes are animals and imaginary characters: onças, bulls, cats, deer, elephants, dancers, couples portrayed in unique pieces, generally sculpted on cedar wood and jaca tree wood, richly polychromatic.
Our feelings to the family and friends of this great Brazilian artist.